Survey: Diamonds Still the Top Choice for Gemstones in Jewelry, Rubies a Distant Third
Diamond is still the most popular choice for gemstones, followed by pearl and ruby. This, according to a survey commissioned by the Trade Development Council (HKTDC) at the recently concluded Hong Kong International Diamond, Gem & Pearl Show and the Hong Kong International Jewellery Show, as reported by the IDI website.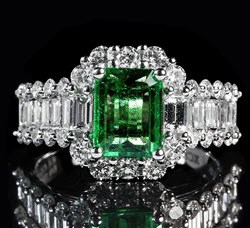 According to HKTDC , under the "Two Shows, Two Venues" arrangement, the two shows welcomed over 76,000 buyers from 140 countries and regions – up 2% over last year. Nearly 30,000 buyers visited the Diamond, Gem & Pearl Show at AsiaWorld-Expo (2-6 March), while over 46,000 visitors attended the Jewellery Show at the Hong Kong Convention and Exhibition Centre (4-8 March). Both events are organized by the HKTDC.
 The survey, which included more than 1,200 buyers and exhibitors about their views on market prospects, found that nearly half expect overall sales this year to be steady, while 15% expect an increase, and 38% predict a decrease in sales.
 64% of respondents expect retail prices to remain steady. Apart from Hong Kong, respondents are most optimistic about the Chinese mainland market, followed by North America and Western Europe.
 43% of respondents expect that the major challenge will come from increases in operating costs, followed by sluggish mature markets (40%) and price fluctuations of raw materials (32%).