Pay-to-Dig: The Story of Arkansas State of Crater Diamond Park
Crater of Diamonds State Park, located in Arkansas, is the only "pay-to-dig" mine in the world. The 37 ½-acre plowed field invites visitors from all over the world to look for diamonds and keep their finds. Since it became a State Park in 1972, it has proven to be a huge tourist attraction.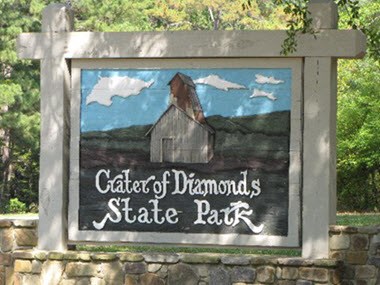 The park is located over an eroded lamproite volcanic pipe and since 1960, diamonds have been discovered in the area. The diamonds found are white, brown and yellow, with white diamonds being the most prevalent. Other non-diamond minerals and rocks are also routinely found, among them Amethysts, garnets, jaspers, agates and quartzes.
According to Arkansas Department of Parks and Tourism, over 75,000 diamonds have been unearthed in the site in 1906.
Here are some of the more notable diamonds found in the crater over the years:
 The Strawn-Wagner Diamond, found in 1990 by Shirley Strawn of Murfreesboro, Arkansas, is the most perfect diamond the American Gem Society (AGS) ever certified. Weighing 3.03 carats in the rough, the diamond was sent to be cut in 1997, and was transformed into a 1.09-carat, round brilliant-shape diamond. According to the Crater of Diamonds website, a diamond this perfect, and weighing over 1 carat, is a one-in-a-billion occurrence.
The Uncle Sam Diamond: Unearthed in 1924, this is a 40.23-carat white diamond – and the biggest ever found in the US. It was cut twice over the years, and today the Uncle Same Diamond is a 12.42-carat, emerald-cut gem.
TheKahn Canary Diamond: A4.25-carat diamond discovered by George Stepp, a logger from Carthage, Arkansas, in 1977. It was later bought by Stan Kahn, a resident of Pine Bluff, Arkansas, who left it uncut – thus leaving the dodecahedral, pillow shaped diamond in its perfect natural form. The Kahn Canary was loaned to Hillary Clinton at her husband's Presidential Inaugural galas in 1993 and 1997.
The Amarillo Starlight Diamond: a 16.37-carat white diamond and the largest found since the Crater became a State Park in 1972. It was unearthed by W. W. Johnson of Amarillo, Texas, while vacationing in the park with his family. The diamond was later cut into a 7.54-carat marquise-shape.