The Late Night Phone Call that Changed A Young Company's Destiny
Every diamond industry insider knows the name "Lesedi La Rona" ("Our Light" in English), for it is the name of an extremely special diamond: the first diamond discovered, in over 100 years, weighing more than 1,000 carats.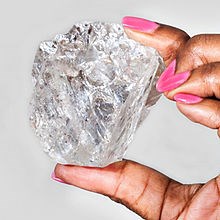 The happy owner of the 1,111-carat diamond (measuring 6.5 cm by 5.6 cm by 4 cm) is Canadian miner Lucara Diamond. Speaking to Channel News Asia, Lucara's CEO William Lamb was interviewed about the discovery of the diamond and the company's plans for its future. Lucara was founded in 2004, and as a young company in an industry with big-time, veteran players, Lamb says that the uncovering of the diamond has assisted the company with much-needed exposure with investors  
According to Lamb, the story begins with a 1.28 am phone call he missed from Paul Day, his chief operating officer in Botswana. He then returned the call, fearing bad news. But he needn't have worried, as Day began the conversation with "Congratulations, you are the CEO of the first company in a 100 years to recover a stone over 1,000 carats."
Now, four months later, "Lesedi La Rona" has made its first-ever appearance, in a private unveiling for 50 selected guests at The Ritz-Carlton Hotel in Singapore. The diamond will then embark on a special "world tour", visiting five other cities before making a final stop in London. There, it will be put up for sale by Sotheby's on June 29.
Lamb is sure that the diamond will fetch an unprecedented price, and revealed that he had gotten offers of up to $40 million for the uncut diamond. According to various estimates, the diamond may fetch up to $60 million.
The "Lasedi La Rona" is the world's largest rough diamond ever found and the second-biggest diamond to be found across the globe - second only to the 3,106-carat "Cullinan Diamond" uncovered in South Africa in 1905.