First in Fashion: Nancy Reagan's Jewelry Goes to Auction
Nancy Reagan has long been considered one of the most elegant and fashionable first ladies to ever reside in the White House. Now, you can now own a piece of jewelry worn by her, or by her husband, aka President Ronald Reagan.
 CNN Money is reporting the private collection of the former presidential couple is up for grabs by the highest bidder in a Christie's auction in New York in September. The pieces range from
$1,000 to $50,000, and Christie's estimates the entire lot could bring in at least $2 million. The proceeds of the sale will go to The Ronald Reagan Presidential Foundation and Institution.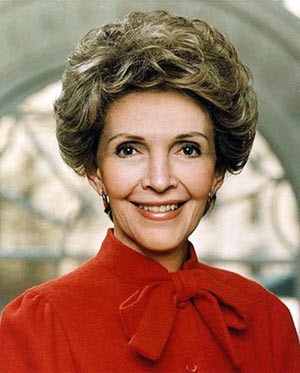 Some of the more prominent pieces include a diamond and gold lion pendant-brooch necklace, estimated at $30,000-$50,000. According to Tom Burstein, senior VP of the jewelry department at Christie's, the necklace was one of Reagan's favorite pieces.
 Another high-end piece is a matching pair of diamond and gold lion ear clips estimated at $15,000-$20,000. Reagan wore the necklace and earring set during a State visit to the UK in 1988.
 A Bulgari diamond, sapphire and ruby American flag ring, which Burstein expects to be particularly popular with bidders, was worn by Reagan on July 4, 1986 at an event for the restoration of the Statue of Liberty. "It's a beautiful ring that is drawing the most attentions so far," Burstein told CNN, "it will be the highlight."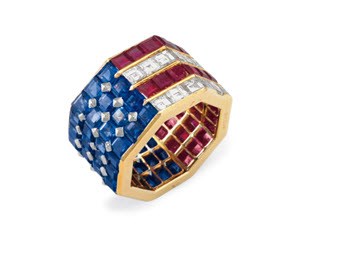 Several other pieces of diamond jewelry are also up for sale, including a bracelet, brooches and earnings. There's also a gold and diamond clutch estimated at $10,000-$15,000.
 Male bidders, who'll want to own a piece of Hollywood and presidential glamour, will probably bid ferociously over the next item: a pair of cowboy boots belonging to President Reagan with the presidential seal